Should Employers Embrace Apprenticeship Programs?
Let's take a look.
As a result of this fiercely competitive and ever-changing tech environment, the pursuit and retention of skilled talent has quickly become the most pressing concern for hiring managers. Among the most potent and potentially underutilized strategies to ensure a sustainable tech talent ecosystem is the adoption of tech apprenticeship programs. Let's dive into the multitude of advantages that apprenticeships offer employers.
Why have an apprenticeship program?
Tailored Skills Development
One of the most compelling returns of apprenticeships is the ability to craft, shape and nurture talent that supports specific business' needs. Apprenticeship programs further empower you to cultivate a learning experience that can finely tune to a unique role that needs to be filled. Creating individualized programs ensures your apprentices are well-prepared to contribute at the highest level to your organization.
Reduced Recruitment Expenses
Hiring well-seasoned employees can be a costly and often a very time-consuming endeavor. Apprenticeship programs offer a cost-effective alternative by allowing you to develop your talent pool from within your organization. This approach considerably diminishes the need for pricey external recruitment efforts and mitigates the potential risks correlated with hiring the wrong candidate. By investing in apprenticeships, you are not just filling a current position, but also building for your future.
Elevated Employee Loyalty and Retention
Apprenticeship programs are often linked to much higher employee retention rates. When individuals are granted the opportunity to learn, grow, and even advance within a company, they tend to remain committed to the organization for the long haul. This translates into substantial resource savings, as you'll spend less and less time on recruiting and training new employees to replace those who may depart.
Enhanced Productivity, Quality and Reputation
Employers who invest in apprenticeship programs, or learn and earn programs, create a positive brand experience. This commitment to skill development and education will increase brand awareness by demonstrating core values like innovation, progress, and productivity.  Apprenticeship also creates a positive investment in the local economy.  Familiarity regularly results in heightened quality of work, as the apprentices bring fresh enthusiasm, additional perspectives, and a willingness to go the extra mile, frequently impacting the team dynamics and improving overall performance.
Cost-Effective Flow of Talent
When comparing hiring skilled professionals outright, apprenticeship programs offer a very cost-effective alternative to the means of nurturing a highly skilled workforce.  While you invest in their training and overall development, you are provided with a dependable pipeline of skilled workers into your organization.  As current apprentices are hired into your organization, new apprentices can then step into the vacated roles seamlessly, thus, ensuring your organization with a sustainable talent pipeline.
Apprentice Programs – Let's Bring It All Together
We here at ActivateWork, believe that apprenticeship programs present a unique win-win scenario for both the employers and the apprentices. From the vantage point of the employer's, these programs will provide an economic opportunity to train and cultivate the very skilled workforce you are looking for.  All while cutting down the overall recruitment costs and enhancing overall employment loyalty. Moreover, we believe that embracing apprenticeships displays your commitment to employee development and an investment in social responsibility, leading to a positive brand experience.
By recognizing the opportunities of capitalizing on these advantages of having apprenticeship programs, employers may secure a competitive edge and be able to foster a thriving adaptable workforce ready to take your company to the next level.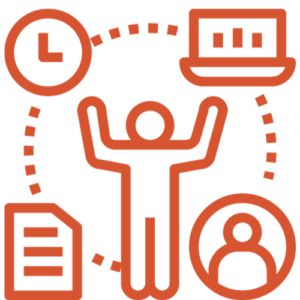 Learn More About Apprenticeship Today