Second chance for a Colorado veteran thanks to breakthrough IT training program

June 11, 2022
By Carol McKinley
Quasey Vinson gave his kindergartner a taste of a faraway place. "Could you possibly mix pineapple juice with apple juice?" he asked the waitress.
"And a mahi-mahi taco?" asked Tyrese, who is missing his two front teeth. Vinson ducked his head at the extra expense. "One mahi-mahi please and the rest chicken."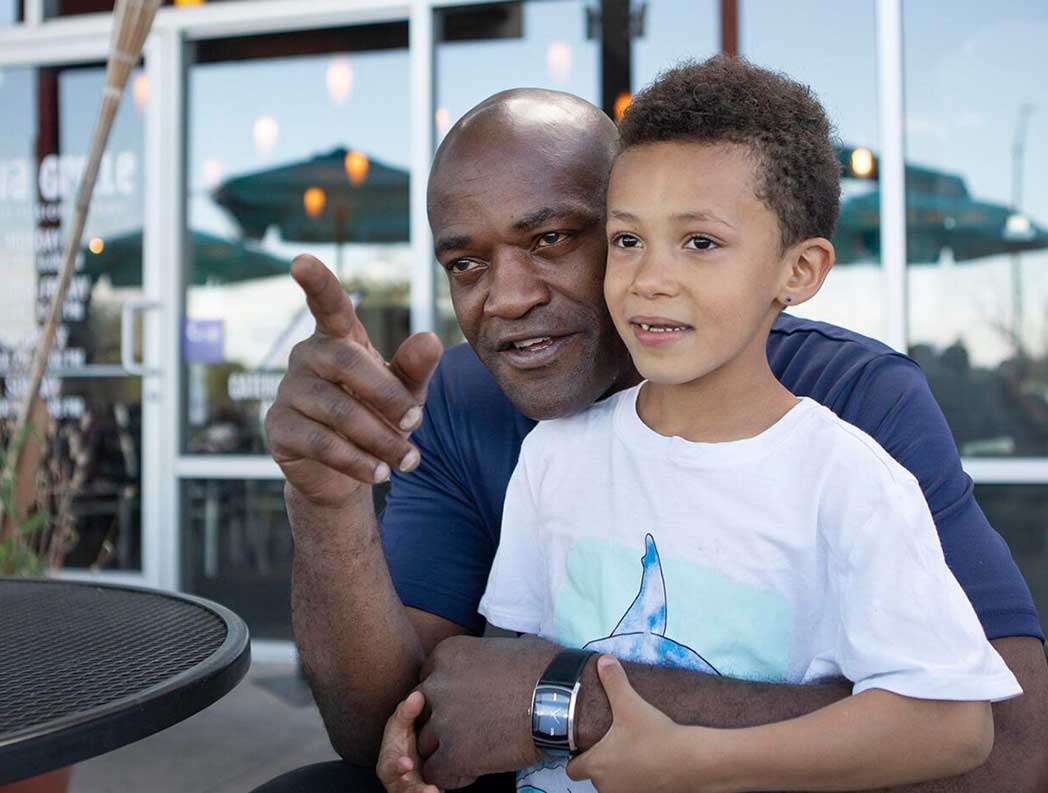 The request was in line with the 5-year old's pre-school graduation bucket list wish: a trip to an exotic island. The tropical treats were a father's compromise. "You want to go to an island? We can't do that now. Someday we'll do that."
Vinson, 47, feels pretty good about his chances for a full life with Tyrese now that he has a new career in computer technology. After beating his head against the wall in a life of jobs that were leading nowhere, he took on a program to learn computer skills which he knew would increase his value to employers salivating to fill urgent needs in IT.
The fact that he landed in Denver after leaving the Army was a happy coincidence. Denver Metro's share of national tech jobs grew by 2% from 2015-2019, according to the Brookings Institute, and is considered a rising star in the industry. El Paso County is also a technology hub, and it is currently hurting for IT experts. Numbers from the Colorado Springs Chamber and EDC show that from around 28,500 openings last month, nearly a tenth of those were for software developers, computer systems engineers and information security analysts. 
Statewide, according to the Colorado Department of Labor and Employment, Colorado is suffering from a critical IT worker shortage. The latest numbers show that of 115,000 open jobs in Colorado, 15,863 are in the computer technology and mathematical fields.
Vinson filled one of those op when he accepted a job three weeks ago.
"I'm in a better spot as far as having my own place, an apartment. My son can stay with me so I him on every weekend instead of sparingly," said Vinson, who credits an unconventional training and placement program called Activate Work for his recent good fortune.
The journey hasn't been easy.
Just two years ago, the Army Corps of Engineers veteran was down and out having moved to Colorado to start a family with Tyrese's mom. That failed relationship plus the pandemic had him struggling to make ends meet even though he was working two jobs.
"I worked as a restaurant line cook and I was also working at a warehouse. I enjoyed those jobs, but I wasn't going anywhere."
When Vinson was feeling at rock bottom, a Veterans Affairs counselor handed him a recruitment flyer for a non-profit called Activate Work which promised free tuition, materials hardware, exam fees and career counseling to people who were willing to take its 15-week job computer science training program. The kicker? It was free.
Too good to be true?
Vinson found out that Activate Work was for real. But that the commitment would require a dramatic lifestyle change. Vinson went through two interviews just to be accepted into AW's program.
"They liked my eagerness to learn and my willingness to do something different," said Vinson. When he graduated in Nov. 2020, he was part of AW's second class. "After covid hit and everything was shut down I wanted to add to my skills. I wanted to add something else to my resume for when the economy opened back up."
Activate Work's founder and president, Helen Young Hayes was on the same thought wave. When COVID19 began, Hayes foresaw that once the pandemic was over, employers would be starving for reliable employees. She also correctly predicted that not only would people lose retail and fast food jobs with the evolution toward automation, but that Information Technology could provide a firm landing for those displaced workers.
"What we saw during the pandemic was a bigger move to working from home. And 40% of the people who were in economically cyclical industries and displaced in Colorado during the pandemic say they were looking for a career before it started," said Hayes. "There is a difference between a job and a career."
Her solution? A focus on a population struggling to achieve financial security. It appeared to be a win-win.
Activate Work, recruits marginalized workers whom she calls "diamonds in the rough," who have been laid off or are disillusioned in a nowhere job. AW trains and coaches them, placing them with Colorado companies desperate to fill thousands of empty IT positions.
People like Vinson who are accepted to the Activate Work program go through a fast-track IT program as opposed to getting a college degree, which Hays believes is an unnecessary expense for that particular discipline. "IT used to recruit 4-year computer science graduates. But there's a million person IT talent shortage in the U.S. We have a real macro problem for IT," said Hayes. "This is what employers tell us they want. This program moves people to the middle class really quickly."
Among the Colorado companies which use Hayes' IT placing program are First Bank, Ping Identity, Bank of America, Trimble, and Denver Health. Companies pay a fee for the service and continued training and Hayes supplements that with philanthropy.
Learners, as AW calls its trainees, have been known to triple their annual salaries once they are placed. The average starting pay for prospective workers who go through Activate Work's program begins at $20 and the retention rate is one year, which is around 35% higher than the industry average.
Hayes said all it takes for people like Vinson is the willingness to go through the training and a desire for a better life. "We look at individuals who are struggling to make ends meet. Historically Colorado ranked 12th in overall prosperity but we ranked 37th in terms of racial inclusivity. We don't target diversity for diversity's sake," said Hayes. "Our goal is to get them to the point where they can take care of their families and are driving wages instead of barely getting by wages."
Besides the training, AW devotes one day a week to help learners target their goals and write resume's. Behavioral health is also a component of the training.
A mental health turnaround was exactly what Vinson needed.  With his unemployment money, he bought a computer for virtual classes. His next goal is to purchase a vehicle. He resolves technology issues  hands on at 9th Way Insignia, a cyber security and software development business within the Department of Veterans Affairs which has a branch in Colorado.
One day he'll take Tyrese to build castles in the sand.
"I'm in awe. I get tears sometimes when I think about the journey," said Vinson.  "Things are moving up."