Recruiting and Admissions Associate
Rebecca Flores
Rebecca is a senior recruiter at ActivateWork. She has over 20 years of human services and customer service experience earned at such diverse organizations as i3Screen and Royal Dairy Crest. She has a penchant for clear, empathetic communication with customers including Boeing and the Department of Transportation. Rebecca is bilingual and has coached and taught urban youth through Colorado Uplift in high school and middle school settings. She has mentored students using trauma-informed methods. Rebecca is committed to building a stronger community by encouraging, challenging, and equipping individuals to reach their potential.
AWS re/Start
(1-Year of Prior IT experience OR an existing IT Certification)

APPRENTICESHIP: DevOps Analyst
The AWS re/Start course focuses on two key technical areas:
1. IT Fundamentals
2. AWS Cloud
This course will help learners succeed in early-career cloud positions such as Technical Support, Cloud Automation and Jr. System Administrator. The technical portion of the curriculum is predominantly hands-on through real-world, scenario-based exercises, labs, and coursework, and includes the end-to-end completion of a project from ideation to reporting, in order to exercise real-life processes.
In addition to technical skills, AWS re/Start teaches soft skills to prepare learners to succeed in a professional environment by preparing them to think critically, build multi-level projects, team dynamics, project planning, communication, and collaboration.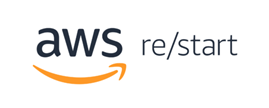 Learning Targets:
Working knowledge of Linux and Python to support AWS 

Networking, security, and database foundations 

Automation essentials within cloud environment 

Focus on improving efficiency and cost reduction
Course Details:
Dates: 23 October 2023 – 16 February 2024
Length:  15 weeks
Schedule: M-F, 9am-4 pm
Location: Hybrid; Online instruction plus face-to-face Professional Development days
Tuition-free!