ActivateWork.org  |  Email: info@ActivateWork.org  | July 2022
IN THIS ISSUE: About Us | Demographic of our Learners | Workforce Matters | Graduate Profile | Current Training Tracks | Our Services | Senator Bennet Visits ActivateWork | Reimagining Workforce Devlopment | 6 Graduates Began Apprenticeships With Leading Employers | Recent Grant Awards | Per Scholas | Our Employer Partners 
About Us
Economic Freedom through the Dignity of Work
ActivateWork is a nonprofit recruiting, training, and coaching firm that connects employers to a diverse pool of exceptional talent. Traditional hiring leaves valuable talent out. We help employers solve talent gaps with qualified candidates from underrepresented communities. Our model is one of few proven to launch people to lasting economic freedom. Our proprietary behavioral screening process, rigorous skills training, and 12 months of on-the-job coaching prepare our learners to be valuable new hires. ActivateWork hires have a 12-month retention rate 36% higher than the industry average.
Demographics of our Learners

Workforce Matters
Last week, I saw Top Gun:Maverick in a state-of-the-art theater in New York City. A giant robotic vacuum cleaner was silently buffing the lobby floor. Another economic sector (with 1.5 million custodians) is being impacted by technology.
COVID-19 accelerated the uptake in automation, artificial intelligence, and remote work, fast-tracking the US to a knowledge-based economy. The demand for skilled jobs has increased, while demand for lower-skill jobs has and will continue to drop—with troubling implications for income and employment inequity. 
It's estimated that three-quarters of Colorado jobs require education beyond high school, but only half of adult Coloradans have the necessary education and training for these jobs. Apprenticeship is a compelling solution to fill the gap.
Apprenticeships are common in the construction trades, but vastly underutilized in the US overall. In Colorado, there are 6,100 individuals enrolled in apprenticeships. With 3.2 million workers in Colorado, apprenticeship is less than two-tenths of one percent of our labor pool. 
Unlike internships, registered apprenticeships are formal programs where companies can train and develop their future workforce and individuals can gain valuable skills and industry credentials, on-the-job and debt-free. 
IT is an industry ripe for apprenticeships. The US has a growing, 1.2-million-person IT talent shortage, but only 90,000 computer science college graduates per year. And since 40 percent of top-paying jobs in Colorado do not require a college degree, companies are increasingly open to alternative credentials. Many of our IT employer partners report they value industry certifications and hands-on experience more than a comp sci degree. Through apprenticeship, they're adding to (not competing for) existing IT talent.
"ActivateWork apprenticeships help Coloradans from all backgrounds transition to the knowledge-based economy."
This year, ActivateWork began offering IT apprenticeships. Since January, we've launched IT apprenticeships in Cyber Security and DevOps. Our employer partners, including Bank of America, Ping Identity, Fortify IT Services, and Leprino Foods, are developing a strategic, customized IT workforce for hard-to-fill roles. 
ActivateWork apprenticeships help Coloradans from all backgrounds transition to the knowledge-based economy. Most come from sectors like retail, hospitality, and warehousing—those hit hardest by COVID and automation. 30% women, 65% people of color, and 22% immigrants, they add much-needed diversity to the IT industry. Given average IT apprentices earn over $50,000 a year, our graduates are able to achieve economic mobility.
By bridging the gap between what is and what could be, ActivateWork is building a skilled and diverse workforce of the future. If you're interested in learning more, email info@ActivateWork.org. 
"After COVID hit and everything was shut down, I wanted to add to my skills. I wanted to add something else to my resume for when the economy opened back up."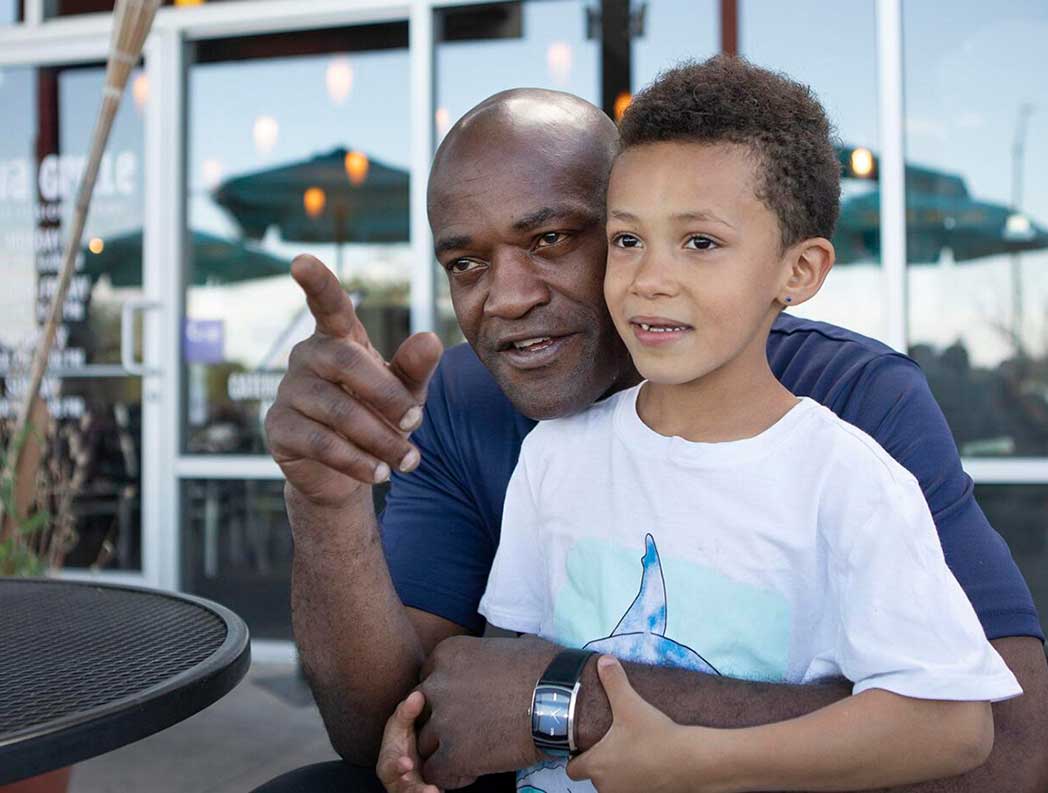 Quasey Vinson, a graduate of ActivateWork, credits his good fortune to the IT training and job placement program of ActivateWork. In 2020, the Army Corps of Engineers veteran struggled to make ends meet even though he was working two jobs. He discovered ActivateWork through a recruitment flyer. He completed the IT course and graduated in November 2020. Today he is employed full-time as a Customer Service IT Engineer. His story is featured in The Denver Gazette.
Current Training Tracks
Desktop Support
This course offers the opportunity to earn the CompTIA A+ certification, equipping learners with the knowledge to apply for jobs such as Infrastructure Management, Desktop Support, and Driver Technician.
Security Fundamentals
Through hands-on training, this course teaches the CompTIA A+ certification with knowledge of networking. Technology jobs include Security Analyst, Infrastructure Management, and Driver Technicians. In addition, there is an opportunity to engage in live cybersecurity tactical exercises at Metropolitan State University's award-winning Cyber Range facility.
Software Engineering
This course prepares learners in computer science theory and advanced software engineering skills with jobs as Junior Web Developer, Web Designer, and App Developer.
QA Engineer Test Automation
Learners understand the fundamentals of software programming and testing skills using Java and Java-based frameworks for jobs as a Quality Assurance Analyst, Quality Assurance Engineer, Software Quality Assurance Engineer and Software Quality Engineer.
AWS re/Start
With a focus on IT Fundamentals and AWS Cloud, this course prepares learners for positions such as Cloud Architect, Cloud Developer, Cloud Systems Administrator, Cloud DevOps Engineer, Cloud Security Engineer and Cloud Network Specialist.
Our Services
Employers work with us in two ways to source and develop talent. They hire graduates directly from our bootcamps and/or they partner with us to sponsor and administer apprenticeships.
DIRECT HIRES
ActivateWork is the solution for businesses that need skilled talent for IT roles, to diversify their talent pipeline, or to increase retention in early career professionals. ActivateWork provides 12 months of professional and
life skills coaching to each new employee to ensure
that they make a successful transition into their new
professional career.
Turnkey Apprenticeship services
ActivateWork  has registered IT apprenticeships in Cybersecurity and in DevOps and is in the process of registering a Software Engineering apprenticeship. Department of Labor registered apprenticeships meet national standards for quality and rigor and provide career opportunities for Coloradans that lead to family sustaining wages. In today's tight tech labor market, companies are increasingly exploring apprenticeship as a strategy to future proof their workforce pipelines.
Senator Bennet Visits ActivateWork
Employers work with us in two ways to source and develop talent. They hire graduates directly from our bootcamps and/or they partner with us to sponsor and administer apprenticeships.
DIRECT HIRES
In May, ActivateWork and U.S. Senator Michael Bennet (D-Colo.) hosted a roundtable of graduates from ActivateWork, CrossPurpose and Climb Hire. Graduates shared stories about their struggles accessing education and workforce opportunities and in achieving economic stability. The event highlighted the proposed Higher Education Innovation Act, introduced by Senator Bennet and Senator Marco Rubio that would enable programs like ActivateWork to receive federal funding to provide our evidence-based training program to more Coloradans. 
Two weeks later on the Senate floor, Senator Bennet shared the stories from ActivateWork's Learner Roundtable.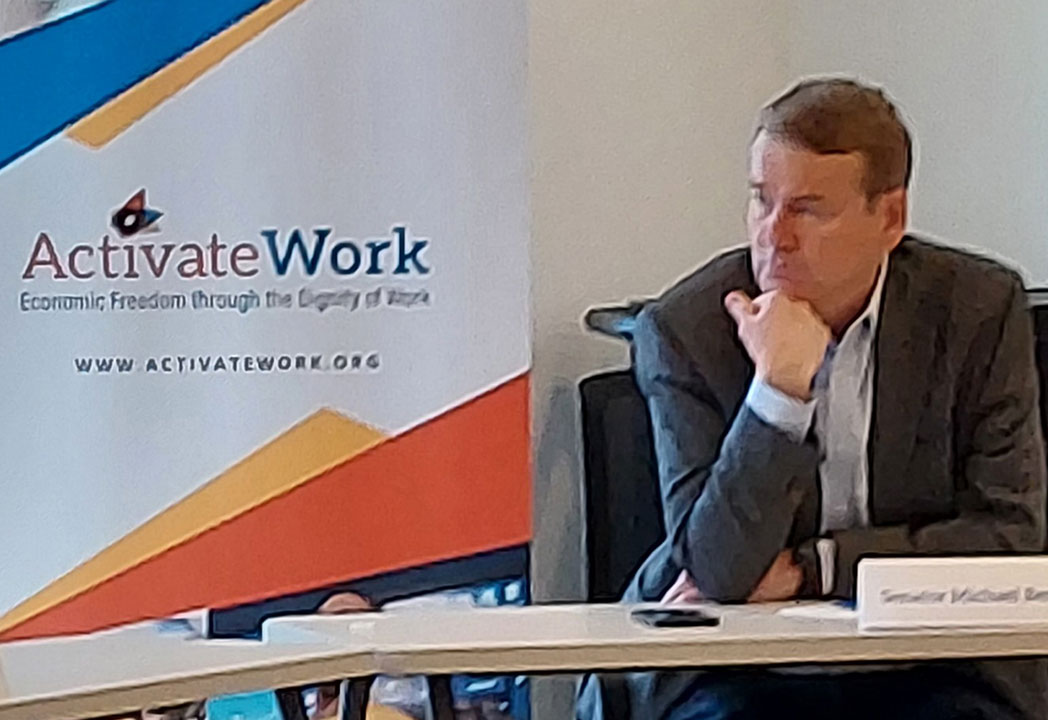 Of the learners who participated, he stated, "Now, because they've gotten a little bit of credentialing over three or four months of training … they can see a future beyond just paying yesterday's bills. The bigger question that should animate us on the floor isn't how much student debt to cancel but how to create a pathway to economic security for every American who graduates from high school, including those who don't go get a four-year degree."
We could not agree more and we thank Senator Bennet for his leadership on this issue.
Reimagining Workforce Development
In April, 60 industry and government leaders came together to learn more about ActivateWorks' comprehensive training model, hear from our graduates and learn from employers about their experiences hiring with ActivateWork. Governor Jared Polis delivered the keynote address. The highlight of the event was when the graduate panel shared their advice to employers. To summarize, these new IT professionals asked employers to stop requiring 2 – 3 years of experience and a BA to access their jobs. They suggested employers hire for potential by testing out their skills, and seeing that they are well prepared to excel and ready to work hard.
Left to Right: David Eddy, Boeing, Colorado Site Director, Naina Dhareshwar, Acting Chief Technology Officer of Boing Global Services, Digital Solutions & Analytics, Helen Young Hayes, Founder and CEO of ActivateWork, Governor Jared Polis, Jennifer E. Arzberger, Ph.D., Champion of Learning for Ping Identity, Rajev Sivarasa, Director of Clarity, Inc., Melissa Uribes, SPHR, Vice President, Talent, Diversity, Equity and Inclusion at Trimble, Inc., Ryan Buerger, Senior Director of Technology, First Bank, Demesha McKinney Hill, Head of Diversity and Community Relations, Janus Henderson Investors Managing, Director of Janus Henderson Foundation
"We need the right applicants with the right skills, for the right jobs."
Governor Jared Polis applauded the work of ActivateWork in building and creating an ecosystem of talented workers. As a champion of workforce development, he discussed the State's immediate needs for prepared talent. "Colorado is facing challenges in hiring," Polis said. "We need the right applicants with the right skills, for the right jobs." ActivateWork is poised to meet this challenge. Joe Barela, Executive Director of the Colorado Department of Labor and Employment discussed how our work aligns with many of the priorities of his department to reskill and upskill Colorado's workforce. He highlighted the Office of the Future of Work and the emphasis on scaling IT apprenticeships in Colorado.
Programs like ActivateWork are the future of work, preparing Coloradans with stackable credentials and wrap around supports to access good jobs in well-paying IT careers. Together, Leveraging the power of business, government and the public sector, we can build a Colorado that works for all.
Six ActivateWork Graduates Began Apprenticeships
with Leading Colorado Employers
"We have partnered closely with ActivateWork to develop Colorado's first DevOps apprenticeship and are committed to hiring candidates from their program to support modern apprenticeship pathways in Colorado for IT."
 —  Jennifer Arzberger, Ph.D. and
 Ping Identity Champion  of Learning
Recent Grant Awards
The Colorado Department of Labor and Employment is
distributing $25 million in grants authorized by House Bill 1264 in 2021. Funding comes through the American Rescue Plan Act. Recently, ActivateWork won three competitive grants for the purpose of responding to the COVID-19 public health emergency and the negative economic impacts of the pandemic. The stimulus investments provide reskilling, upskilling, and next-skilling training opportunities for Coloradans during times of substantial unemployment. 
Awarded $369,000 to provide IT skills bootcamp training for 300 learners. Learners are recruited into a 15-18 week bootcamp training. Four days a week are hard skills training to earn industry recognized credentials, the fifth day of each week is focused on professional and life skills coaching.

 

Awarded $198,375 to administer career coaching and work alongside workforce centers and other community-based organizations to improve awareness of career coaching resources throughout the state. This program will involve human-centered design and address target populations, such as new Americans, individuals with some college and no degrees (comebackers), the formerly incarcerated, those impacted by the COVID-19 pandemic, and particularly older individuals looking for career guidance.
Awarded $50,000

by the Office of the Future of Work to launch and scale registered apprenticeship programs in Colorado. In 2022, ActivateWork registered two occupations for apprenticeship with the Department of Labor, Cyber Support Technician and DevOps Analyst. We are in the process of registering a Software Development Engineer. ActivateWork serves as an intermediary, helping employers to build a talent pipeline for their in-demand roles through apprenticeship.
For the third year in a row, ActivateWork has been designated as a Third Party Partner for the Supplemental Nutrition Assistance Program (SNAP) through the Colorado Department of Human Services. ActivateWork is an approved training and education partner providing SNAP participants with opportunities to gain skills, training or experience that will improve the participants' employment prospects and reduce their reliance on SNAP benefits.
The PwC Charitable Foundation awarded ActivateWork $25,000 to support our comprehensive IT skills training model. The program enables low-income individuals to succeed in high-quality IT careers. 
The Mayer-Phillips Foundation awarded ActivateWork a two-year $100,000 grant to support the continued expansion of our training model in the Metro Denver area. Funds support direct program costs for enrolling and supporting learners, including training, employment placements, wraparound supports, and coaching.
ActivateWork is the only franchise site of the national nonprofit, Per Scholas. Over the last 26 years, Per Scholas has trained over 18,000 IT professionals, matching them into careers with 650+ employers in 20 cities. Per Scholas IT training curriculum and instructors lead our bootcamp trainings. The curriculum has been rigorously evaluated and is recognized as a gold standard in workforce development. Curriculum is informed by employers to ensure the skills developed are needed in the industry. Our model is agile and able to respond quickly to changing industry demands.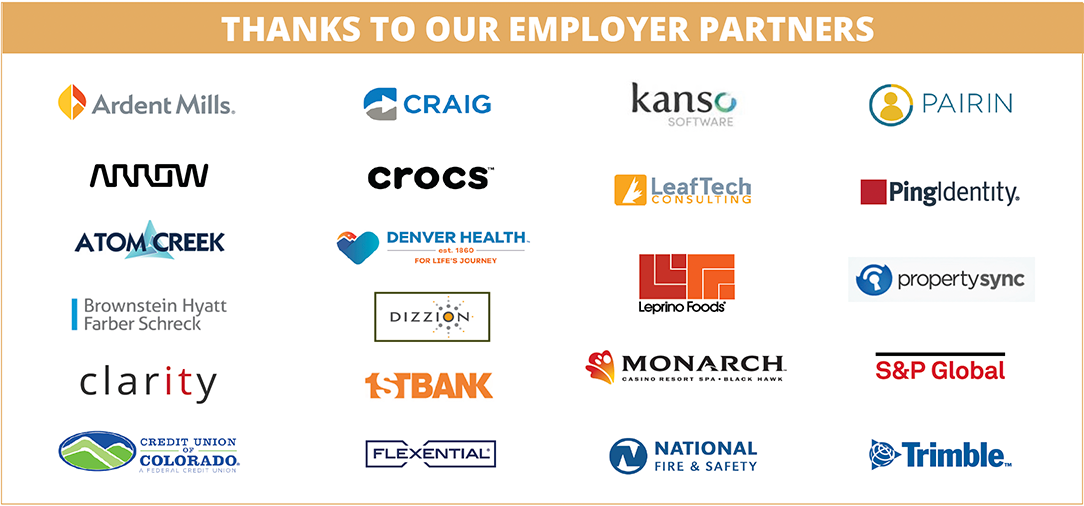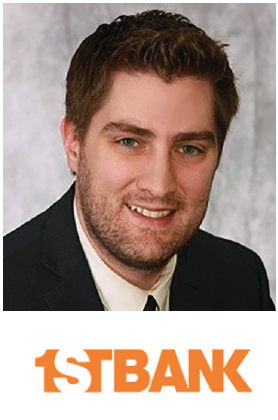 "The process is painless as ActivateWork does all of the hardest work for you. The graduates come in with a good foundation of technical and professional skills. They will need continued support, but they are ready to learn and you have a partner at ActivateWork you can work with to further their development. Overall it's been a great experience."
­—Ryan Buerger,
  Senior Director of Technology,
  First Bank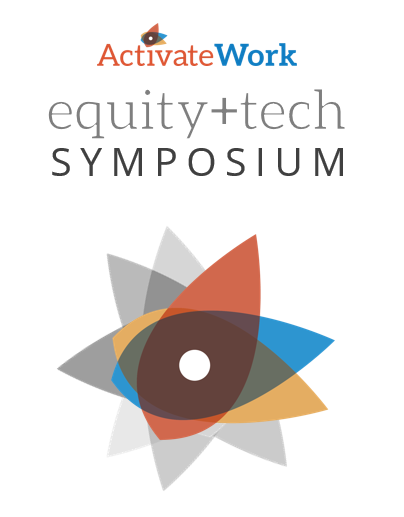 Equity+Tech Symposium. Help us finalize our 2023 course offering and participate in thought provoking conversations with employers, innovators, and educators. 
Discuss:
Challenges & obstacles
Strategic curriculum
solutions
Trends, forecasts, planning
Thurs. Sept. 29, 2022, 9 a.m.
For more information contact Ace VanWanseele at ace@activatework.com
or call 720-272-7647.

Hire Our Graduates
ActivateWork graduates are motivated, trained, and ready to work. To learn more, contact Ace VanWanseele at ace@activatework.org or call him
at 720-272-7647.
Invest In Our Work
Your donation will give a motivated learner the chance to realize their innate potential and secure a quality job andcareer pathway in technology. Visit our website at https://www.activatework.org/give