As seen in the September 2022 issue of Neighbors of Northwest Arvada
ActivateWork: A Graduation of Diverse Learners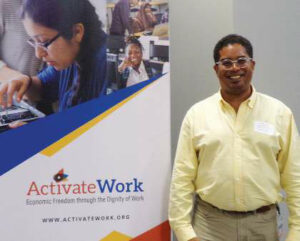 By Jeannette Schultz
Last July 1, Denver-based ActivateWork graduated three classes of 58 learners from technology courses suchas Security Fundamentals, QA Test Automation, and Desktop Support.
"Our triple graduation celebrates our impressive learners' passion, curiosity, and perseverance. We celebrate each graduate's courage to pursue broader horizons through the transformative power of technology," said Helen YoungHayes, Founder and CEO of ActivateWork.
Mission:
ActivateWork's mission is to help underserved individuals achieve their fullest potential through the dignity of work. Founded in 2016, the organization is dedicated to transforming ambition into lasting success by launching individuals into flourishing careers in IT and healthcare.
Partnering with Per Scholas, ActivateWork's graduates completed 15-week courses focused on troubleshooting and maintaining computers, software, networks, and mobile devices. These courses also allowed students to earn CompTIA's industry-recognized A+ and NETWORK+ certifications.
"It is bitter-sweet, half of me can't wait to see all the great things these learners will accomplish, but the other half will miss our conversations," said Michael Savage, Career Development Manager of ActivateWork.
Graduates are eager to start their technology careers. One graduate reminisces on finding the program fortuitous. "When I first heard about the program, I thought it was too good to be true. This program fell into my life: tuition-free, textbooks provided, testing vouchers covered. We had career coaching and participated in MSU Denver's Cyber Range. This was more than just a boot camp," said Yiana Michalakopoulos, a recent graduate who completed the Security Fundamentals course.

What we do:
ActivateWork provides world-class IT training and credentials, provided by Per Scholas, a national partner organization. The tuitionfree IT training and employment program is a win-win for individuals, employers, and the Denver community. By efficiently and effectively upskilling Coloradans from underrepresented communities, the IT curriculum solves for:
1. The million-person IT talent shortage in the US. This talent gap grows every year; the US simply doesn't graduate enough computer sciences students, to meet the demand for tech talent.
2. The rapid obsolescence of the skills of millions of Americans due to Artificial Intelligence and the acceleration into a digital economy.
3. The post-pandemic desire for economic mobility and flourishing careers among workers previously employed in low-wage, dead-end jobs.
4. The uneven nature of Colorado's prosperity. Colorado ranks 8thin overall prosperity but 37th in racial inclusivity of our economy. Communities of color are not participating equally in the state's success and prosperity.
5. The tech industry's desire for more diversity in the workforce. Currently, only 36 percent are women and 18 percent are Black and Hispanic.
6. The economic development cost to Colorado of unfilled tech jobs. With 23,000 cyber openings, Colorado's economy is missing out on $2.3 billion in annual earning capacity.
7. Accelerating demand for cybersecurity and data protection.
ActivateWork is a nonprofit recruiting, training, and coaching firm that connects employers to a diverse pool of exceptional talent. The organization helps employers solve talent gaps by finding promising candidates in underrepresented communities and preparing them to excel in new careers.
Visit ActivateWork.org for more information.